Riuniti Hospitals, Reggio Calabria, Italy
The "Bianchi-Melacrino" hospitals, better known as the "Riuniti" hospitals, represent the main health facility in the city of Reggio Calabria, Italy.

The hospital of Reggio Calabria took the name of "Ospedali Riuniti" because it brings together the Storpi hospital and the Civic Hospital. The construction work began on April 2, 1929. The princes of Piedmont inaugurated the Bianchi Melacrino hospitals on May 31, 1932.
Idral develops technology at the service of hygiene with its electronic taps. Thanks to the sensor mounted inside all the electronic products, the water is dispensed without touching any part of the product.
The infrared rays detect the presence of the user at a self-regulated distance, set during the installation. The infrared, as soon as it "sees" the user, turns on a solenoid valve which opens the water supply.
Depending on the item, the stream can be cold or hot, mixed or pre-mixed at a desired temperature. The water continues to be dispensed as long as the user is in the "reading" field of the infrared. As soon as he moves away, the solenoid valve ends the operation avoiding any water waste.
The following product was installed in the Hospital: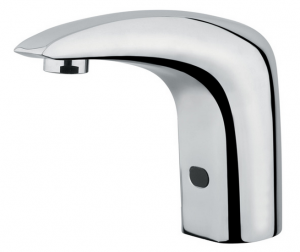 02514/R
Infrared tap for washbasin with transformer for 220V power supply (also available with external battery).