Taps for professional kitchens in private residence
Kitchen taps are a very important fixture because you use it countless times a day for a wide variety of activities and having the right one makes life easier. For this reason, we recommend the installation of professional taps also in private houses, since they are designed for intense use which guarantees greater durability and strength.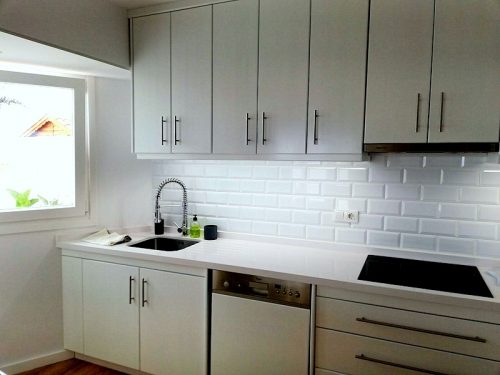 This is the case of this house in Tenerife where the Single lever kitchen mixer with double jet shower and magnetic attachment was chosen for the recently reformed kitchen. This tap came from the redesign for domestic use of our professional kitchens taps. The first thing that called the attention of this tap was the simple and almost industrial design that gave character to the minimalist design of the kitchen and recalled the metallic details of the environment. But this tap performance goes far beyond the beauty of the design. In fact, this professional mixer specific for kitchens is much stronger than a traditional tap.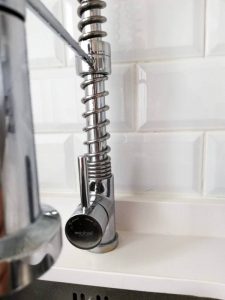 In fact, it has a single control ceramic disc cartridge which guarantees a longer life to the tap, since it has an average life of 25 years, much longer than a regular valve which normally lasts 3-5 years. In addition, the mixer spring is made of stainless steel, an ideal material for humid environments such as the kitchen, addressing the problem of oxidation. Finally, this mixer is extremely versatile and precise, given that it has a Chrome ABS 2-jet hand shower that allows you to deliver the flow like rain or aerated according to your needs. The aerated flow is ideal for cleaning the sink, facilitating the task and ensuring greater hygiene.