The "SS. Filippo and Giorgio nursing home" is a facility for self-sufficient seniors as well as for those who are not, which is located in Valduggia, Piedmont, Italy. It provides nursing and physiotherapy personalized assistance 24 hours. In recent years it has been completed remodeled for bringing the facility up to standard in terms of layout, fire regulation, sanitary and functional status.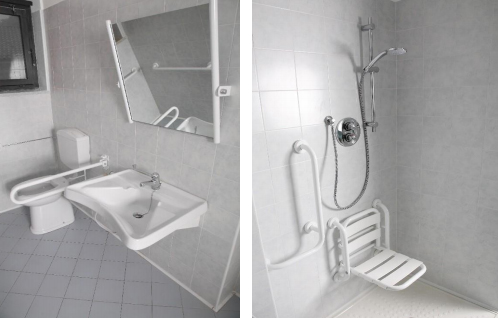 Idral provided a Fully Integrated Solution for the bathrooms, installing ceramics, handrails, accessories and mixers of the EASYLIFE line, especially designed for people with reduced mobility. The products are fully integrated into a cohesive design and the space functionality respects the Italian legislation from the technical and the structural point of view.
For years, Idral has supported designers, planners and architects to develop bathrooms specific for people with reduced mobility, offering a full range of products and the superior technical skills that these spaces require. The renovation project of the "SS. Filippo and Giorgio nursing home" is an example of which we are particularly proud. In this building, were installed the following products:
I. EASYLIFE ceramics:
"Lux" white Vitreous China wc with floor discharge, 10200;
Ergonomic washbasin, 10192;
Basic ergonomic wash basin in white Vitreous China for wall fixing, 15201.
II. EASYLIFE accessories, with cataphoretic treatment and coating with epoxy powder and fixing flanges in plastic electrically insulated:
Vertical angle bar right/left hand (painted), 12001V;
Linear handrail painted,12000V;
Tilting grab bar (painted),12005V;
Folding shower seat with back (painted) 12008V;
Adjustable mirror,12010V.
III. Mixers and taps
Concealed thermostatic mixer with flexible and shower,09016;
Wall mounted single lever mixer with flexible and shower. With clinical lever,02404;
Single lever basin mixer without pop-up waste, 02475.