Piccinelli kindergarten, Varese
The remodeling of Piccinelli kindergarden bathrooms in Varese was designed by Studio Associato IL LABORATORIO, which coordinated the project, to create an environment, not just fun and colorful, but above all educational, where children can experience the relationship with water and hygine. In this space, where color, imagination and learning blend into one, IDRAL provided the self-closing taps. The project was born from the studio idea of making children experiment what happens during the water cycle. Behind the sinks, on the wall, there is a blackboard that allows teachers to record their explanations.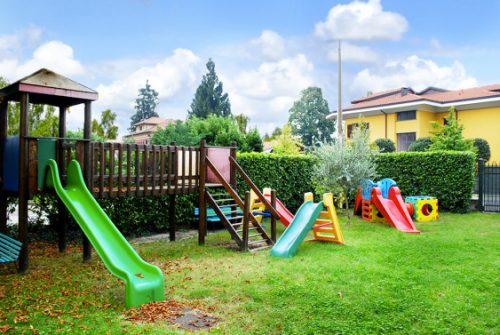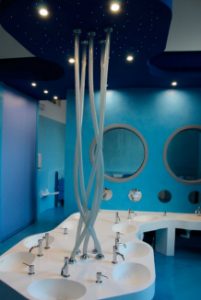 The restrooms designed to teach children how the water cycle works.
The end result is a sort of stage set, consisting of a starry sky, clouds representing the condensation and evaporation of water, clear tubes of water and Idral self-closing taps.
In this kindergarten you can find the MINIMAL series self-closing push button basin taps, since they are very easy to use and ensure maximum safety, creating a welcoming environment, with simple and familiar shapes that invite children to play.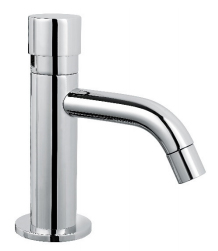 The tap (art. 08111) is powered by the top handle, but it stops automatically after 15 seconds. The tap is also equipped with a flow limiter (6 liters per minute), which allows to reduce the water waste providing maximum hygiene.