Self closing Taps in Industrial-style bar
This bar is a splendid landmark of Leeds nightlife (England). It was completely renovated in 2017, with great attention to details. Not only the owners had to redo completely the floors to adapt the plumbing, but they also changed the layout of the stairs, giving more impact to the intimate bar on the ground floor and creating a much larger space on the upper floor, leaving open spaces and high ceilings. The style is elegant and contemporary: exposed bricks, indirect lighting, tables with wooden shelves and vinyl walls that add a touch of color to the place.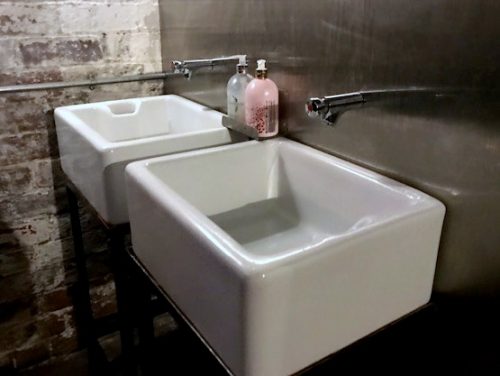 Even in the bathrooms they wanted to keep the same "industrial" and minimalist style, creating a high-end environment. Thanks to our local business partner, taps manufactured by Idral were installed here. The items chosen for this space are the CLASSIC series wall-mounted self-closing taps for washbasin with push-button control (code 08000/E). Like all our self-closing taps, the 08000/E reduce water consumption, because they interrupt the flow after 15 seconds at 3 bar and are also equipped with a flow limiter at 6 lt/min.
The simple and modern design of this tap blends perfectly in this space where they wanted to recover the true essence of the building, leaving the walls rustic and using stainless steel sinks to create a unique and original atmosphere. Thanks to the sober and essential lines, the 08000/E are ideal for industrial design, where the original building is enhanced by leaving exposed beams, bricks and pipes and upgrading the old to give a new and clean taste. To learn more about this product click here.