The kitchen is the heart of every home, because it is a space for cooking, eating and sharing happy moments with family and friends. For this reason, the designer of this house took extreme care in developing this area, using natural materials and developing an open floor plan to allow for natural light and airflow.
The preference for natural materials, such as wood and stone, and the predilection for minimalist and industrial design are the basis of this project which aims to create a functional but welcoming space, highlighting the personality of the house.
All surfaces in the kitchen are made from natural materials. The worktop and even the sink have been crafted in natural stone which is a living finish, so it will become more and more beautiful over time, developing a tone that makes it look as if it has always been part of the house. In fact, natural materials add warmth and charm to this contemporary kitchen and capture the essence of this country villa. The chrome tone of the taps in contrast with the dark surfaces of the kitchen creates a modern and fresh design that keeps the theme of the natural material alive.
The choice of taps in a kitchen is a cardinal decision both from an aesthetic and a functional point of view. The owners of this house opted for the "Archimede" kitchen taps by Idral, equipped with a double rain jet hand shower and aerator.
In addition to the appealing aesthetic and the perfect integration into the minimalist and industrial design, these taps are durable and easy to use. In fact, they have a spring that makes washing dishes and cleaning the kitchen easy, reducing water waste. Thanks to the flexibility of the spring, the water flow can be placed further down the sink, allowing you to easily clean hard-to-reach spots.
You can use this tap as a hand held sprayer that can help you  rinsing dishes or pans without effort. This feature allows you to save time and be more effective in cleaning.
Furthermore, these taps have superior performance compared to traditional taps, because although the design has been conceived for the residential market, the technology is the same as our shower heads for professional kitchens, such as those in restaurants and hotels, where the frequency of use is much more intense and requires higher standards of strength and durability.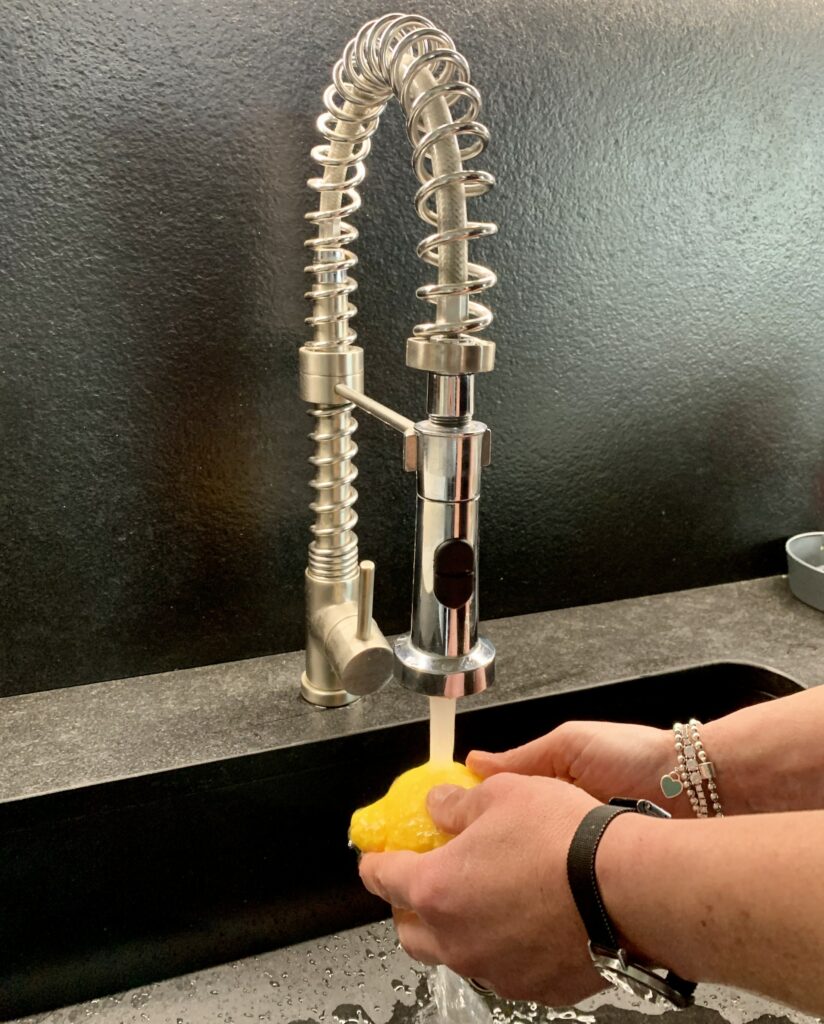 Single lever kitchen mixer with double jet shower and magnetic attachment
Single control ceramic disc cartridge
H=450 mm for under cabinet installation
Chrome ABS 2-jet hand shower -rain or aerated
Hand shower attachment through magnets
Stainless steel springs
Stainless steel flexible hose plastic coated with swivel joints
Download the technical data sheet,  the manual, the catalog, or contact Idral for more information.