The Bologna exhibition centre is one of the leading European fair organizers and one of the most advanced centres worldwide. This building extends over 375,000 m2 of covered and outdoors areas and its total services area is 36,000 m2, for a total of 18 halls.
Idral self-closing taps for basin were installed in the bathrooms of the pavilions to ensure the maximum water saving and hygiene.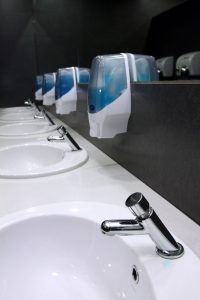 Water savings and hygiene guaranteed by our self-closing taps at the Bologna exhibition centre
IDRAL self-closing taps are essentials for public spaces and sports centres, where you need to provide the best hygiene with an easy handling while ensuring savings in water consumption.
These products turn on simply by pushing the top button. Once opened, the product ends the water supply automatically, without you touching the tap again. This guarantees the hygiene, reducing, meanwhile, the waste of water and energy.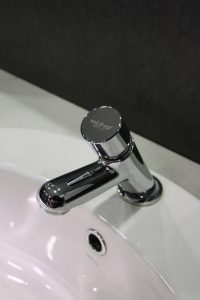 IDRAL self-closing taps, number 08210, were installed on the basins of the restrooms because, with their simple and clean design, they perfectly integrate the general atmosphere and because they offer excellent performance.
They guarantee maximum hygiene, not requiring any manual contact to close the water flow, and they minimize the water waste that can represent 50% more in public spaces compared to domestic consumption, allowing obtaining important savings