In the heart of Milan, one of the liveliest and culturally rich cities in Europe, a famous pizzeria has recently embarked on a renovation project for its customer bathrooms. The goal was to create an environment that reflects the welcoming and Mediterranean atmosphere of the restaurant, combining it with modern and functional elements to ensure a pleasant experience for its guests.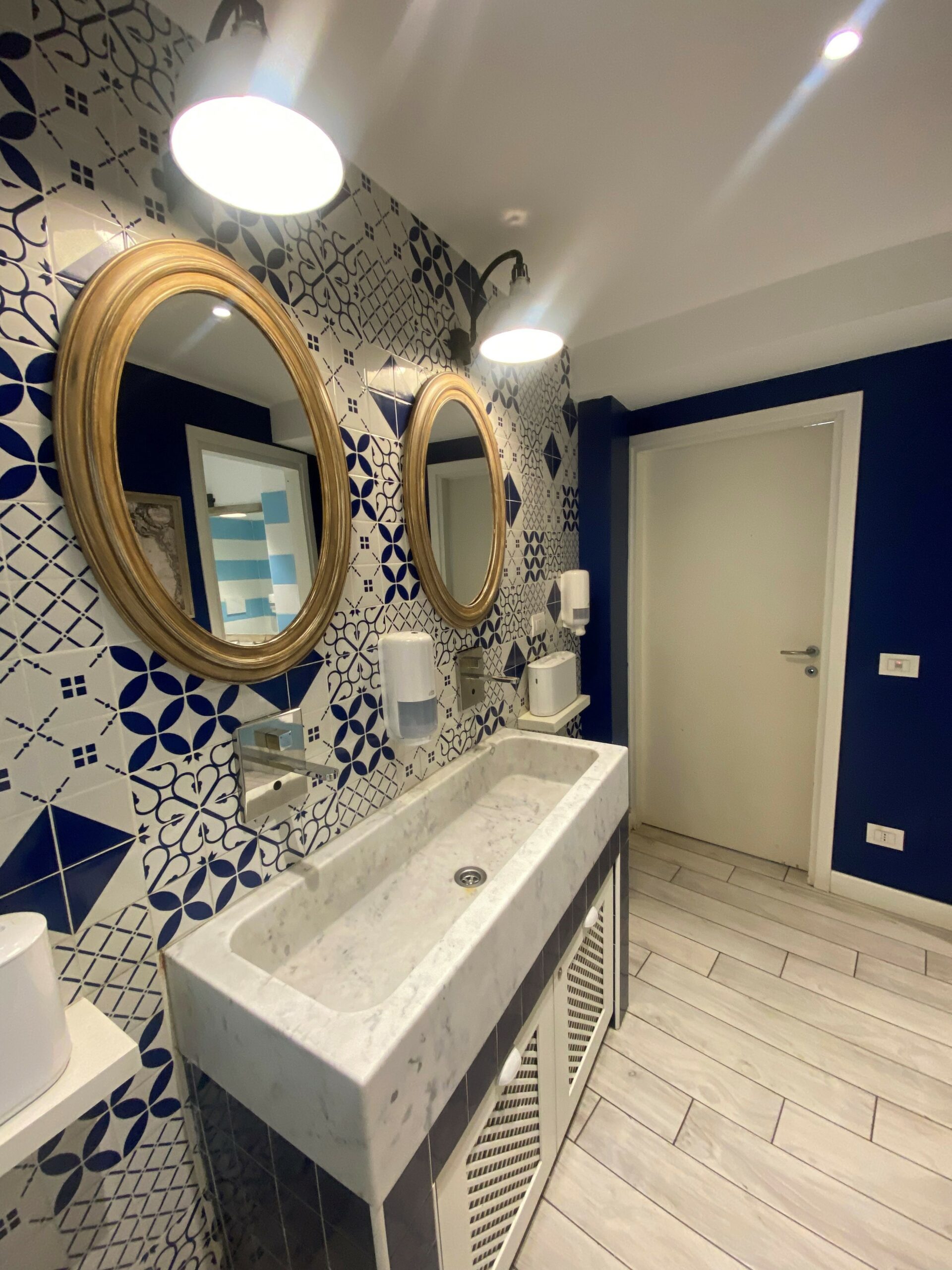 Decorated Tiles: An Explosion of Color and Creativity
At the center of this environment sits a stone-carved sink, an element that melds the essence of nature with modern design. The stone, with its unique veining, adds a touch of elegance and authenticity to the space. Beyond the aesthetic aspect, the stone sink is also a practical choice, being durable and easy to clean.
Stone Sink: A Touch of Natural Elegance
Al centro di questo ambiente si trova un lavandino scolpito in pietra, un elemento che unisce l'essenza della natura con la modernità del design. La pietra, con le sue venature uniche, aggiunge un tocco di eleganza e autenticità all'ambiente. Oltre all'aspetto estetico, il lavandino in pietra è anche una scelta pratica, essendo resistente e facile da pulire.
Wall-Mounted Electronic Taps: Design, Functionality, and Efficiency
One of the most striking elements of this renovation is the implementation of wall-mounted electronic taps. These innovative solutions not only give a modern and clean look to the space but also offer a range of functional benefits.
Their minimalist and compact design saves space, freeing the room from unnecessary clutter and creating a sense of openness. Additionally, being recessed into the wall, the taps are less exposed to water splashes and potential accidental damage.
The electronic sensor allows controlled water dispensing, only when needed, ensuring efficient use of water resources. Furthermore, the absence of physical contact reduces the risk of cross-contamination, a crucial aspect in maintaining hygiene in a public environment.
Ease of Maintenance and Vandal Resistance
In addition to offering cutting-edge design, our wall-mounted electronic taps are also easier to clean and maintain compared to traditional models. Their smooth surface without protrusions makes cleaning a quick and effortless task.
Furthermore, these taps are designed with high-quality materials and advanced technologies to withstand wear and vandalism. This ensures that the investment made in the renovation of the bathrooms endures over time, providing impeccable service to the pizzeria's customers.
In conclusion, the bathroom renovation project of the famous Milanese pizzeria is a perfect example of how the harmonious combination of Mediterranean style and modernity can create a unique and welcoming environment. The use of decorated tiles, stone sinks, and wall-mounted electronic taps demonstrates how attention to detail and the adoption of innovative technologies can transform a simple bathroom into an extraordinary experience for customers.
Download technical data sheets, the catalog, or contact Idral for more information.