Solar shower for private pool
Patios and gardens play an increasingly important role and the desire to experience naturalness and authenticity is driving many families to invest in the outdoors to spend their free time in the open air, without leaving the house.
In this project, the owners built a beautiful and modern swimming pool surrounded by greenery and as an important accessory they installed a solar shower by Idral.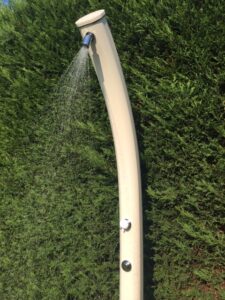 In fact, outdoor showers are a trend in vogue, which adapts the shower design to the style of the architecture of the house and the surrounding environment and can give a distinctive touch to the garden, becoming part of the overall beauty of the outdoor. To create this oasis of peace, a white 09260 solar shower was chosen. It is hidden behind the fence of the house, offering an excellent space of privacy and contact with nature to rinse off after spending the day in the pool. Beside being beautiful, this shower allows saving water and energy thanks to the timed taps that shut off the flow automatically, reducing waste, and to the solar heating system, which does not need pre-heated water. In fact, it has a 30 liter tank and a sun heating system that allows to go from 12° to 34° in an hour.
High resistant PHD plastics structure
Anthracite black or white
Push button control for shower with self closing 15 secs at 3 bars not adjustable
Push button control for foot washer with self closing 15 secs at 3 bars not adjustable
8 l/min flow limiter for shower, 5 l/min foot washer
Download the technical data sheets, the BIM or contact Idral for more information.