In 2016, a modern State Prison was completed in Sarayevo-East, built respecting the European legislation and quality standards, it covers a total area of 24,000 m2.
Special taps for prisons
Idral, thanks to the expertise gained over the years, develops and produces specific solutions for the bathrooms of this building. The products installed in the restrooms of the prison include the OLTREMURO selfclosing taps: this series was conceived as a variation of traditional taps and spouts that allows to install the sanitary fittings in a technical space hidden from the user and that is designed with specific features against vandalism and hanging.
Water savings and safety guarantee by self-closing and vandal-resistant taps
IDRAL self-closing taps are essentials in public restrooms and sports facilities, where you want to provide maximum hygiene and accessibility while ensuring water savings. The self-closing products are operated by pressing the top button. Once you press it, the tap ends automatically the water flow after few seconds. You do not need to touch anything. Therefore, it ensures hygiene limiting the water and energy consumption. The OLTREMURO series, in addition to respecting all the specific requirements for self-closing taps, is the ideal solution for buildings that require particularly high levels of security and strength, like prisons.

OLTREMURO series basin and shower self-closing tap (SKU 08651-20 and 08651-20- 30)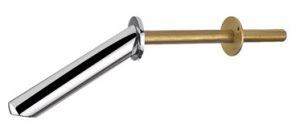 OLTREMURO Spout (SKU 08640-20)
OLTREMURO shower head (SKU 08633-20)