Hotel in Ponta Negra, Brazil
Ponta Negra is one of the most beautiful beaches in the north-east of Brazil that offers a splendid natural retreat as well as great entertainment thanks to the numerous restaurants and bars along the coast. In this wonderful environment is located the 4-star superior Esmeralda Praia hotel, which has direct access to the beach and a water park with whirlpools and chromotherapy lighting.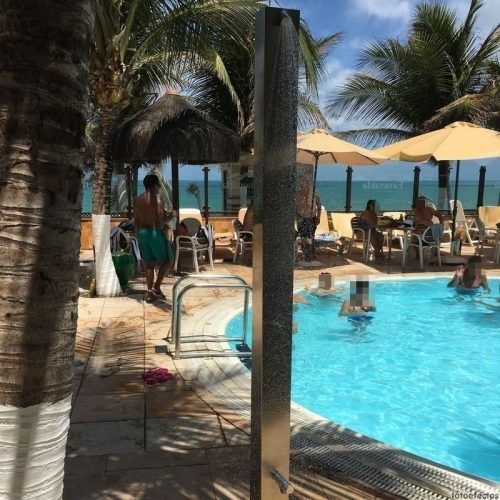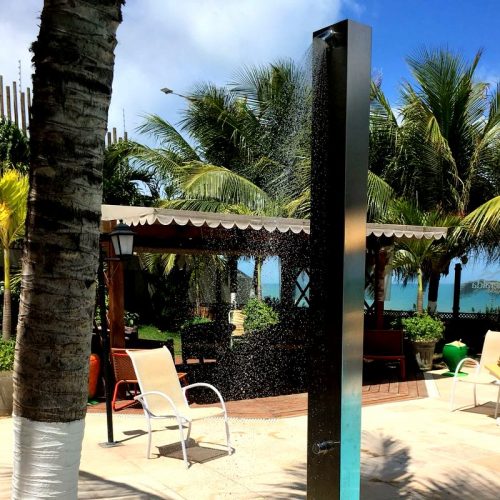 In the area of ​​this beautiful pool, the Idral 09220/L showers were installed. These stainless steel shower columns with self-closing taps are excellent for surroundings like this where salinity and atmospheric elements can easily deteriorate external materials. In fact, stainless steel guarantees greater resistance to climatic agents and corrosion.
Coastal construction? Use the right architectural material
Metal along the coast has a hard job. Salt, wind, humidity, there is always a threat out there, waiting to attack the exterior finishes.
It is very important for external developments close to the coast to do an in-depth study about the most suitable materials and solutions to slow down the deterioration of the beauty and structural integrity of the project while reducing maintenance requirements.
Stainless steel is definitely one of the best solutions for outdoor showers for these extreme environments.
Stainless steel shower columns with footwasher and self closing taps.
In addition to the material strength, these columns are equipped with self-closing taps and with the shower flow limiter of 8 l/min for the shower and of 5 l/min for the foot-washer. These measures reduce water waste, contributing to the preservation of the environment and helping to contain water and energy costs which can be very high in the case of hotels, swimming pools and campsites.
They are also equipped with a vandal-proof shower head that has been designed to minimize the risk of tampering and therefore reduce maintenance costs.